Selecting A Coffee Solution
Services / Selecting A Coffee Solution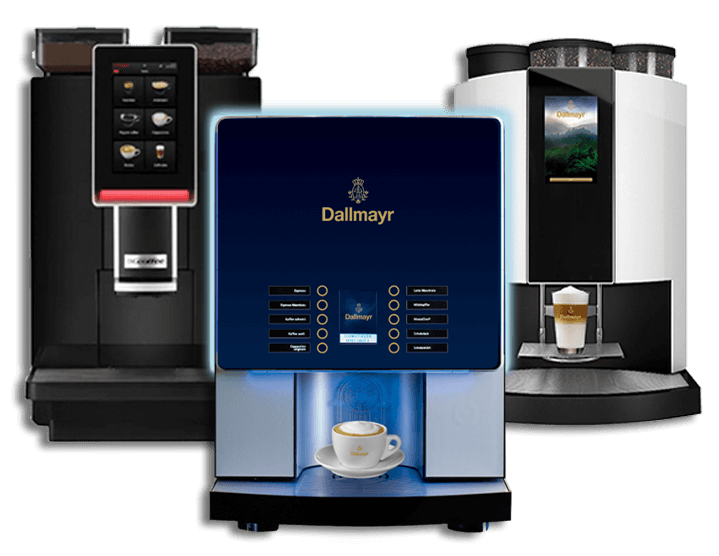 Choosing the right coffee machine for your office
Selecting A Coffee Solution: No matter how large or small your office is, it just wouldn't be complete without good coffee.
Black in the morning, espresso after lunch and a latte macchiato in the afternoon – our coffee solutions for your company are just as varied as the requirements and tastes of your customers and employees.
We have the right commercial fully automatic coffee machines, professional accessories for every occasion and top quality coffee.
Different offices, different preferences. Always the perfect cup of coffee.
Corporate Coffee Solutions
Our coffee machines will give your staff and clients coffee shop quality coffee and a choice of hot beverages like cappuccino and hot chocolate. All at the press of a button …while saving you money.
Coffee solutions that fit well for small businesses, reception areas or retail shops include on-demand single serve coffee machines that are always on, but only make coffee when a button is pressed.
Typically, just one machine must cover the range of coffee options needed. It is usually placed in a convenient location that all staff members can reach, so selection is critical if the right solution is to be installed.
We have a range of machines that are well suited for small office type environments and these are typically small automatic coffee machines, small coffee vending machines and filter coffee machines.
Selecting A Coffee Solution – Medium sized companies generally need a few coffee machines to cater for staff complements of up to 200 staff.
Here, we need to consider where the machines need to be placed in order to minimise the numbers, but ensure easy access. We also need to look at the capacity of the coffee machines to cater for the expected numbers of staff using each machine.
With the possibility of a number of machines, we can offer specific coffee machines for specific areas. For example, a high end automatic coffee machine with fresh milk coffee drinks for the reception area where clients visit and a instant coffee based coffee vending machine with for staff in the sales office.
Large companies may be spread out over a number of floors and have a number of buildings too. Here we need to look at how many staff are in different areas, and the type of beverages that management want to provide.
With greater usage comes the need for greater management and machines with access card readers can offer control over how many drinks are dispensed per day per person.
Generally, the coffee machines will be larger and offer canisters that can hold more product before needing to be refilled and we offer a complete range that includes larger automatic coffee machines like the Vicenza, through to large coffee vending machines that can offer 150 cups before a refill is needed.